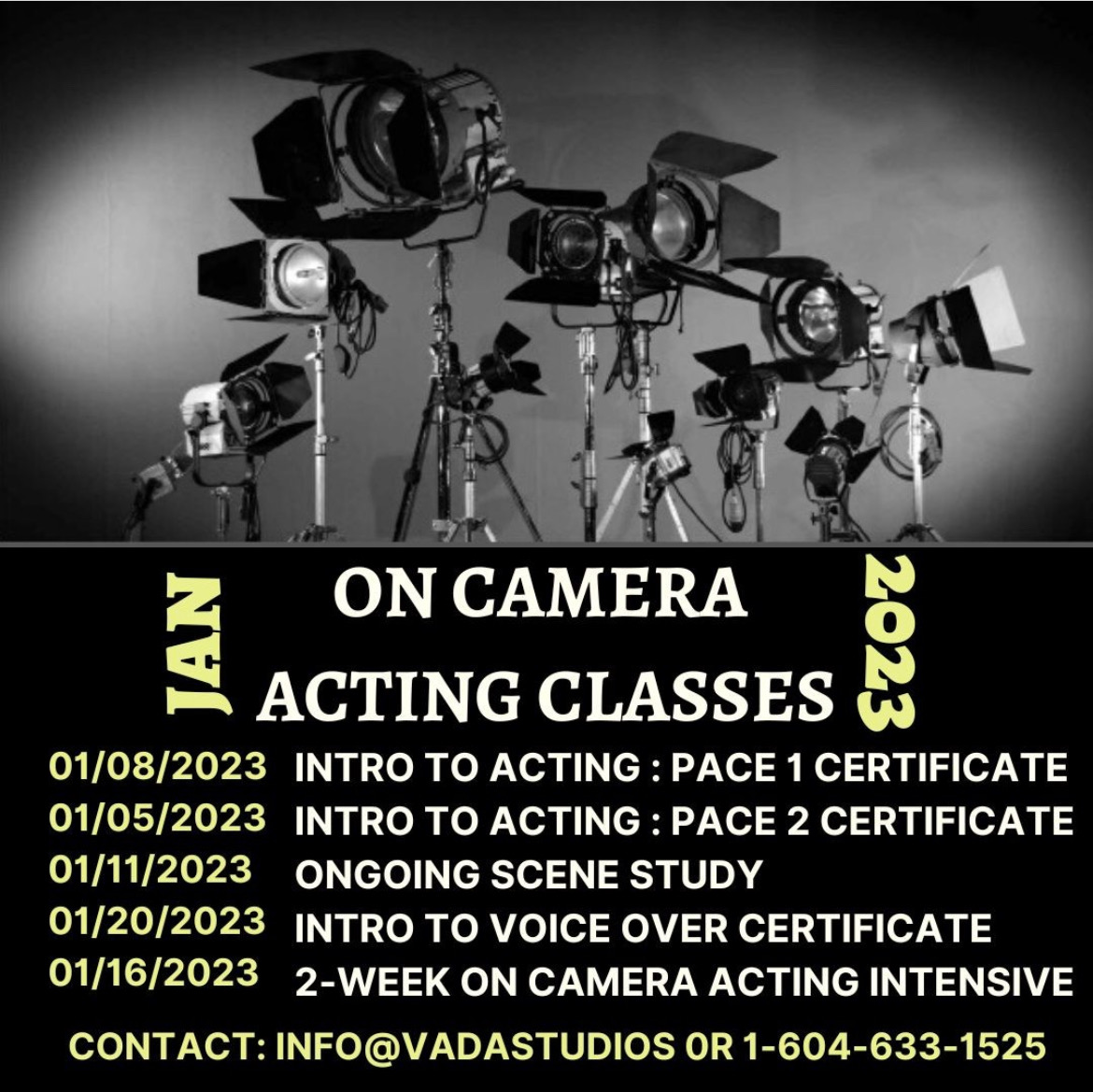 Is launching a new career on your list of new year's resolutions? Do you have dreams of becoming an actor or being involved somehow in the entertainment industry? VADA Studios has got you covered! We've got some amazing courses starting to kick off the new year, and we want to tell you all about them. We're sure we've got something on our roster that you're going to love, so keep reading to find out what's coming up at VADA!
INTRO TO ACTING: PACE 1 CERTIFICATE
Pro Actor Core Essentials 1, or PACE 1, is our introductory program for beginner actors. It's also well suited for performers who have a background in theatre and want to make the leap into television and movie acting. VADA will teach students all about the crucial techniques needed for any kind of film or TV performing. This is absolutely essential for anyone getting started, especially if you're looking to complete some of our other, more advanced courses.
The training for this course begins with important things like etiquette for auditioning, including for commercials and cold reading on camera. Throughout the weeks of instruction, students will continue to build on their solid foundation, learning about studying scenes, analyzing scripts by delving deeper into emotions, and merging with characters.
This course starts on January 8, 2023, and ends on February 26, 2023. It's eight weeks long and takes place from 6pm to 9pm. The total cost, including tax, is $575.00.
INTRO TO ACTING: PACE 2 CERTIFICATE
If you've completed our Intro to Acting: PACE 1 Certificate, then you're ready to complete our Intro to Acting: PACE 2 certificate! PACE 2 takes all the scene studying, auditions, and analysis techniques of PACE 1 to the next level.
PACE 2 looks at how to acquire talent agents and also explores the importance of creating an effective submission package when looking for an agent. This includes things like cover letters and resumes, professional headshots — even what NOT to do for a headshot — and compiling demo clips.
Text analysis is explored even further, and rehearsal techniques will be studied. Students will learn how to extract all the necessary information to make the best choices for their characters, and scenes will be broken down so that students can effectively talk about and rationalize the choices they make for their characters.
Audition skills will also be improved even further, and, before the program comes to an end, students will put together a demo clip showcasing everything they can do for their submission packages. By the end of the course, they'll be ready to get out there into the world of acting.
This program — which is eight weeks long — begins on Thursday, January 5, 2023 and ends on February 3, 2023. It costs $575.00 with tax.
ONGOING SCENE STUDY
This course is where students dive into the world of subtext, blocking, analyzing stories and scripts, and accessing the emotions that simmer beneath the surface of scenes and characters. The program also covers dialogue and voice exercises, and the overall goal is to help students reach new heights of believability in their performances. There is a focus not only on scenes for television and film, but on the classics too.
Students will be assigned a partner for scenes. The pairs will develop and learn their scenes over a four week period, and, each week, a particular aspect of the scene will be the focus of instructor critique. At the end of the course, students can invite two friends to watch a live performance of these developed scenes.
If you're wanting to take this course, you should already have experience acting for the camera as well as English skills that are considered strong. This class begins January 11, 2023, and the fee is $250 for four weeks or $485 for eight weeks.
Are you excited about the new season of courses at VADA? We hope so! If any of these classes interest you, please contact us today to find out more about how you can apply! Stay tuned for our next post about the other upcoming classes at VADA!