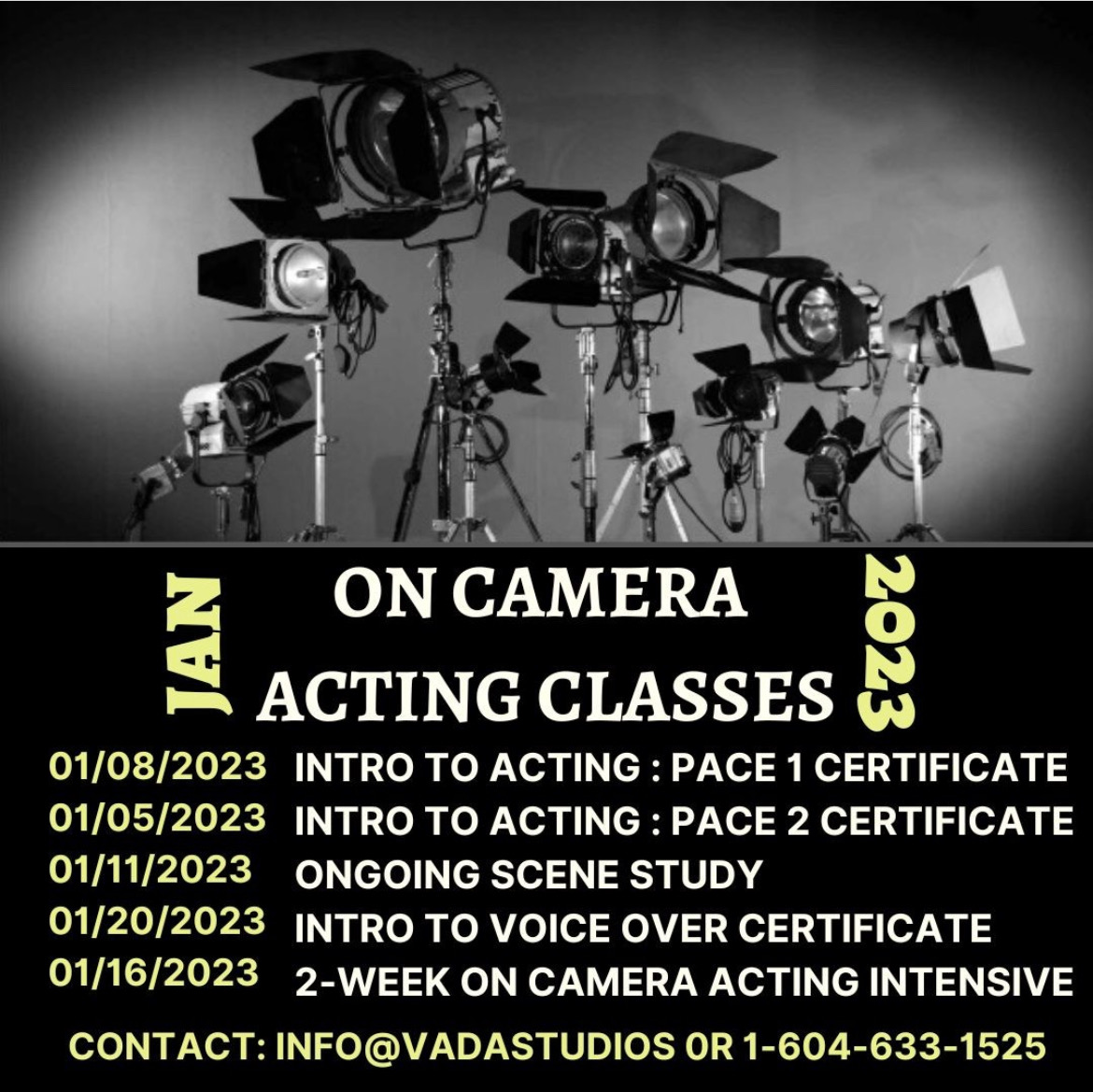 New year, new you! VADA would love for you to start off your new year with some incredible acting courses to help you launch your career in the entertainment industry. We've got a lot going on in January, so check out this article — as well as part one of our upcoming VADA courses — to find out more!
INTRO TO VOICE OVER CERTIFICATE
If you're someone who loves to do voice impressions or use fun and silly voices with your friends, or if you're someone who gets compliments on the soothing or unique qualities of your voice, our voice over certificate might be the perfect course for you! By learning the right techniques, students can learn all about finding and developing their voices in a way that earns them income from television to movies, narrations, e-books, commercials, tutorials, and so much more!
This course is eight weeks long and is part time for those who need some flexibility in their schedules and might be working. The course is very practical and hands on and teaches students how to become acquainted with the range of their voice, develop their confidence in auditions, and navigate the voice acting industry.
This specialized aspect of acting requires specific training and a keen understanding of what individual clients are looking for in voice over work. This course is great for beginners who want to start from the very beginning of voice over work, and it's also a good choice for actors who want to expand on their current repertoire.
The course teaches a variety of skills, such as voice preparation, as well as preparation for body, mind, and breath. Recordings that students create will be studied in greater detail to learn where improvements can be made, and students will also learn how to get their own cost effective voice over setups put together.
This class starts January 10, 2023 and ends on March 10, 2023. It lasts for eight weeks, runs from 6pm to 9pm, and costs $575.
TWO WEEK ON CAMERA ACTING INTENSIVE
Once listed as our Two Week Intensive, VADA's On Camera Acting Intensive is comparable to our Acting Certificate, but this one is actually full time. This means that results are achieved at a faster pace than with a part time course, and it's something that students will need to be able to commit to.
Beginners are especially encouraged to try this course out, as well as those who have backgrounds in theatre acting.
This course is Monday through Friday for two weeks, beginning on January 16th, 2023. It runs from 1:30pm-5:30pm and costs $943.95 including tax.
There is no shortage of amazing courses at VADA to help you meet your career goals in the new year. If you've ever had an interest in acting or some other form of entertainment, we would love to hear from you. You can contact us today for more information about applying, or check out our website for further details! We look forward to hearing from you!