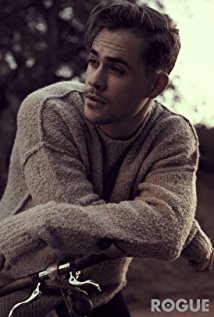 If you're a fan of the hit Netflix series Stranger Things, then you likely recognize Dacre Montgomery as the popular character, Billy Hargrove. What you might not know is that Dacre Montgomery spent some time as a teenager attending one of our intensive programs at VADA, and we are so thrilled to consider him one our VADA alumni! Read on to find out more about Dacre and his impressive accomplishments.
DACRE MONTGOMERY: A BRIEF BIOGRAPHY
Dacre Montgomery was originally born to a Canadian mother and New Zealander father in Perth, a city in Western Australia. His mother and father were both part of the entertainment industry, specifically film, which mean that Dacre spent a lot of time on set. This is where he discovered he too loved to act, and by the time he was ten, Dacre had a role in a short film. From there, he decided he wanted to pursue acting as a career.
At 12, Dacre was already enrolled in comprehensive acting courses both in a school and through a theatre company. He spent a great deal of time both training and working with younger adults in some advanced groups, an experience that undoubtedly helped him to grow and develop as a performer.
Mount Lawley High School's visual and performing arts program was Dacre's next step, along with the Western Australian Academy of Performing Arts. By the time Dacre completed high school, he'd received a Best Actor school nomination, and decided he was going to complete WAAPA's program for a Bachelor of Performing Arts.
He graduated from WAAPA in 2015 with a Bachelor of Arts degree in Acting, which he completed in three years.
DACRE MONTGOMERY AT VADA
It was during the summer of Dacre's seventeenth year that he attended VADA and completed our Two Week Intensive Certificate.
The ideal choice for students who have previously received training in things like high school drama, university theatre or introductory film classes, VADA's Two Week Intensive provides an introduction to the professional level of on-camera acting. Students will learn VADA's techniques and basics, covering all areas of film acting during this foundation class, which is important to take prior to joining any of the other more advanced classes.
It's so exciting to see VADA alumni go on to act in such impressive roles, and we're really proud of Dacre's accomplishments!
DACRE MONTGOMERY: POWER RANGERS
In 2017, Dean Israelite directed the major motion picture Power Rangers, based on the popular television series. Dacre Montgomery landed the role of the popular red Power Ranger, Jason. This is just one of the notable roles that helped cement Dacre as a beloved young actor in some of the most currently well-known films and series.
DACRE MONTGOMERY: STRANGER THINGS
Perhaps his most recognized role, Dacre Montgomery joined the cast of Stranger Things in its second season as Billy Hargrove, Max's protective older brother. Dacre does a spectacular job portraying a character whose behaviour is a direct result of the abuse he experienced at the hands of his own father. We won't spoil anything for you, in case you haven't watched the show, but we highly recommend checking out Dacre's amazing performance.
As you can see, VADA's programs are often stepping stones along some really incredible paths in the entertainment industry. Contact us today for more information if you're interested in attending VADA — we'd love to include you on our list of alumni!