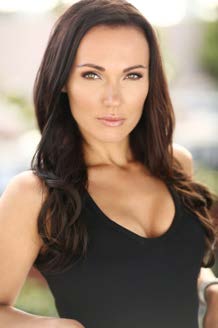 Olena is a professional model as well as an actress who completed our Two Week Intensive Certificate (now the On Camera Acting Intensive Certificate), Post Dramatic Arts Management and Ongoing Scene Study Courses in 2012.
In just 4 short years since her time at VADA, she has racked up a number of solid credits on some of the hottest TV Series being shot in town "No Tomorrow", "Once Upon a Time", "The Flash", "Rogue", "Lucifer", "iZombie" and "Psych".
She recently stepped into the world of movies with her work on the soon to be released feature film, "Death Note" There is no doubt you will be seeing more of Olena on some of your favourite TV Series and Films.
Click here to find out more about Olena's journey.
Here are some of Olena's credits. For a complete list go to Olena Medwid's IMDB page.
Movies
2016 Death Note
TV Series
2018 Six
2017 Rogue, 7 Demons
2016 Lucifer, Once Upon a Time, No Tomorrow
2015 iZombie
TV Mini-Series
2013 Eve of Destruction
Shorts
2013 Room Service, Dia De Los Muertos, El Matador
2015 Veronika
2016 Missing