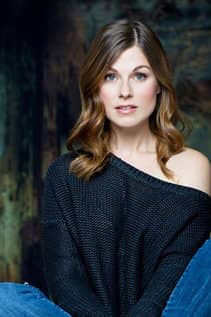 Meghan completed our Dramatic Arts Program Diploma in 2003, after which she quickly climbed the ladder of success. She actually started her acting career years before attending VADA, when she appeared as a stand in on a popular children's series. Now Meghan has over 30 film and TV credits under her belt and has worked with comedy greats such as Eugene Levy, Colin Mochrie, Paul Reiser and Martin Short. She played a pivotal role in Atom Egoyan's film "Chloe", starring Liam Neeson and Julianne Moore, and appeared alongside Daniel Radcliffe and Zoe Kazan in the romantic comedy "The F Word".
Other credits include lead roles in "American Pie Presents: Beta House", "Old Stock" and the horror films "The Fog", "Home Sweet Home" and "The Shrine"; recurring roles on "Blue Mountain State", Disney's "Aaron Stone", and "Degrassi:TNG;" and guest spots on "Lost Girl" ,"Saving Hope", "The LA Complex", "Rookie Blue" and most recently CW's "Reign".
Here are some of Meghan's credits. For a complete list go to Meghan Heffern's IMDB page.
TV Series
2018 UnREAL (7 episodes)
2017 How to Buy a Baby (10 episodes), Designated Survivor, Wynonna Earp (9 episodes) 
2016 Good Witch, American Gothic
2015 Backpackers (8 episodes), Rookie Blue, Patriot, Reign
2014 Road Trip (9 episodes)
2013 Lost Girl
2012 Degrassi: The Next Generation, Saving Hope, The L.A. Complex
2011 Good Dog, Almost Heroes (8 episodes), Blue Mountain State (12 episodes)
2010 Aaron Stone (5 episodes), Scare Tactics
2006 Whistler, Monster Warriors
2007 Lovebites (9 episodes), Conspiracy
Movies
2015 A Sunday Kind of Love, Special Correspondents
2014 Merry Ex-Mas
2013 Home Sweet Home, What If
2012 Old Stock
2009 Chloe
2005 The Fog
TV Movies
2017 Christmas Wedding Planner
2016 Journey Back to Christmas, Best-Selling Murder
2012 I, Martin Short, Goes Home, The Wife He Met Online
2010 Sunday's at Tiffany's
2007 The Two Mr. Kissels
2006 Presumed Dead
2005 Flight 93