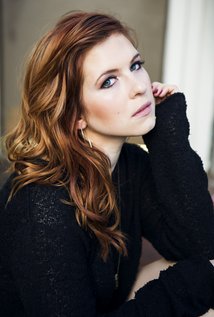 Magda became interested in acting at the age of 10 (after her brother introduced her to Pulp Fiction). After completing our Two Week Intensive Certificate (Now the On Camera Acting Intensive) Program she began her career in 2002 with brief appearances in the TV series Jeremiah and John Doe. After that, she played Andy Jensen on Kyle XY.
In 2008 she starred in the Hallmark Channel original movie Every Second Counts and in 2009, she was cast as Lacy Rand, a series regular in the television drama Caprica with Eric Stoltz and Alessandra Torresani. In 2012, she guest starred in the second season of Jane Espenson's romantic comedy web series, Husbands and began appearing in Continuum in the role of Emily in 2013.
Here are some of Magda's credits For a complete list go to Magda Apanowicz's IMDB page.
TV Series
2015 Motive
2014 The Mentalist, TMI Hollywood, Continuum (18 episodes)
2013 King & Maxwell
2012 Holliston, Husbands
2011 Robot Chicken
2010 Caprica (17 episodes), Hellcats (6 episodes), Team Unicorn
2009 Kyle XY (24 episodes)
2008 The Andromeda Strain
2007 Bionic Woman, Renegadepress.com (25 episodes)
2006 The L Word
2004 Cold Squad
Movies
2004 The Butterfly Effect, A Reason
TV Movies
2014 Til Death Do Us Part, Fatal Memories
2013 The Toyman Killer
2012 The 12 Disasters of Christmas
2010 Snowmageddon
2009 Bond of Silence
2008 Every Second Counts
2006 Holiday Wishes, Devil's Diary