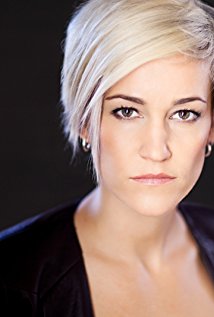 Luvia Petersen was raised in Montreal, Canada until the age of 6, when her family relocated to Alberta. After three years her family moved to BC, which is where she lives today.
Luvia showed a strong interest for both athletics and drama while attending high-school in Kelowna, BC. She chose to pursue athletics, which lead her to participating at the provincial level in both rugby and soccer. After a successful run in the world of sports, Luvia chose to revisit her love for acting. She graduated our Dramatic Arts Program Diploma in 2003 and continued training under renowned acting coach Warren Robertson (teacher to Larry Moss) while teaching and coaching at The Vancouver Academy of Dramatic Arts (2004-2010).
Luvia is best known for her work as the sexy and powerful Jasmine Garza on SyFy's "Continuum". Her first professional job came at the age of 25, when she was cast in the Emmy nominated TV series "The L-Word". From there, Luvia went on to host the first season of the documentary TV series "Hot Pink Shorts". She has since guest starred on "Proof", "Motive", "The 100", "The Tomorrow People", "Psych" and "Falling Skies".
Luvia is proud to have worked on two features films that originated as iconic television series, "Battlestar Galactica: The Plan" and "The X Files: I Want to Believe".
Here are some of Luvia's credits. For a complete list go to her IMDB page.
TV Series
2018 Ghost Wars
2017 The Good Doctor
2015 Proof, Motive
2014 The Tomorrow People, Psych, One Question Interviews, The 100
2013 Falling Skies
2012 Continuum (39 episodes)
Movies
2008 The X Files: I Want to Believe
2009 Battlestar Galactica: The Plan