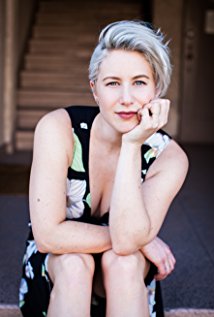 Kristine Cofsky is an actor, producer, director, writer, and photographer, with a deep love for independent arts. She graduated from our Dramatic Arts Program Diploma and shortly afterwards had her breakout role as an actor in the feature film "When Life Was Good", directed by Vancouver filmmaker Terry Miles in 2008.
The indie film enjoyed wide-spread festival and distribution success after premiering at the Toronto International Film Festival. Kristine was nominated for a Leo Award as "Best Lead Performance by a Female" in a Feature Length Drama for her role in the film. She has since been involved in a number of Miles' successful projects, both in front of and behind the camera.
In the fall of 2011, Kristine completed principal photography on her own first feature "In No Particular Order". The project, which Kristine wrote, directed and starred in, went on to premiere at the Vancouver International Film Festival(VIFF) in October 2012. The film was nominated "Best Canadian Feature Film" was also nominated for 4 Leo Awards. It was later picked up by Mongrel Media for distribution shortly after its premiere. Kristine is based out of Vancouver, BC. and continues to develop her career in both film and photography.
Click here to read more about Kristine's career path to success.
Here are some of Kristine's credits. For a complete list of her credits including those for Producer, Writer, Director and Art Director, go to her IMDB page.
TV Series
2018 The Arrangement
2016 Travelers
2015 Mistresses, The Drive, Motive
2013 Almost Human
2012 Primeval: New World, Arctic Air
TV Movies
2015 Just the Way You Are
TV Mini-Series
2013 Gracepoint