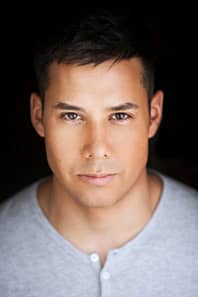 Justin was born and currently resides in Vancouver. He was introduced to the local film & television industry soon after graduating high school. He worked with the East Vancouver Urban Native Theatre Company for 3 years before beginning formal study in our Dramatic Arts Program Diploma.
Five short years later and he is an accomplished actor with over 10 lead, supporting and recurring television roles. Justin continues to explore new territory in the realm of dramatic arts and most notably appeared in the supernatural romantic fantasy series,"Twilight Saga: Twilight Eclipse". Recently, he has taken on a recurring role on the TV series Blackstone.
Justin's lead performance in the feature length film, "Two Indians Talking" earned him the "Rogers Peoples Choice Award" at the 2010 Vancouver International Film Festival (VIFF) and a nomination for "Best Supporting Actor" at the 2010 American Indian Film Festival in San Francisco. He took home the award for "Best Actor" at the 2010 Winnipeg Aboriginal Film Festival and was also nominated for a Leo Award for his role in the film. Most recently he has been nominated for another Leo Award, this time for "Best Supporting Performance by a Male in a Dramatic Series" for his role in Blackstone.
Here are some of Justin's credits. For a complete list go to his IMDB page.
TV Series
2017 Fear the Walking Dead (10 episodes), The Arrangement
2015 Defiance (15 episodes), Blackstone
2014 Heartland
2012 The Killing, Arctic Air
2008 The Guard
Movies
2017 Road of Iniquity, Lean on Pete, Mohawk
2013 North Mountain
2011 Primal Rage: The Legend of Oh-Mah
2010 Two Indians Talking
2009 The Twilight Saga: Eclipse
Shorts
2014 Not Indian Enough, Wool
2008 The Dance of My Beating Heart, Mountain Spirit