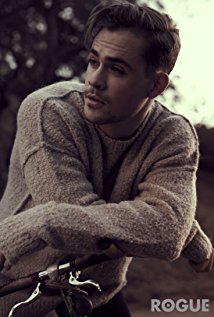 Dacre was born in 1994 in Perth Western Australia. His mother is Canadian and his father is a New Zealander. Both parents were working in the film industry, so he spent many hours of his childhood on film sets where he developed a love of acting. At the age of 10 he had his first role as an extra in a short film, after which he decided to pursue a career as an actor. He began comprehensive acting classes at the age of 12 with a local school and also with a theatre company. Throughout this period he was often working in advanced class groups, where he was exposed to working and training alongside young adults.
Dacre was accepted into a specialist visual and performing arts program when he entered Mount Lawley High School. He took part in many school productions and also attended acting workshops at Western Australian Academy of Performing Arts (WAAPA). When he graduated from high school, Dacre was nominated Best Actor at the school during his 5 years there. He became determined to successfully audition to enter the Bachelor of Performing Arts program at the prestigious Western Australian Academy of Performing Arts (WAAPA).
At just 17 years old, Dacre visited Vancouver for the summer, completed our Two Week Intensive Certificate Program, then returned to Australia. He has always admired Hugh Jackman (who graduated from WAAPA) and as well as Heath Ledger, who grew up in Perth and who inspired him to believe that he too could make it all the way to Hollywood. He completed his 3 year Bachelor of Arts in Acting degree at WAAPA and graduated in 2015. Within weeks he knew that he would be filming 3 projects over the next 6 months "A Few Less Men" , "Safe Neighbourhood" and "Power Rangers". He has also signed on to join the cast of Netflix's hit show "Stranger Things" when it comes back for the much anticipated season 2.