Youth & Teen Scene Study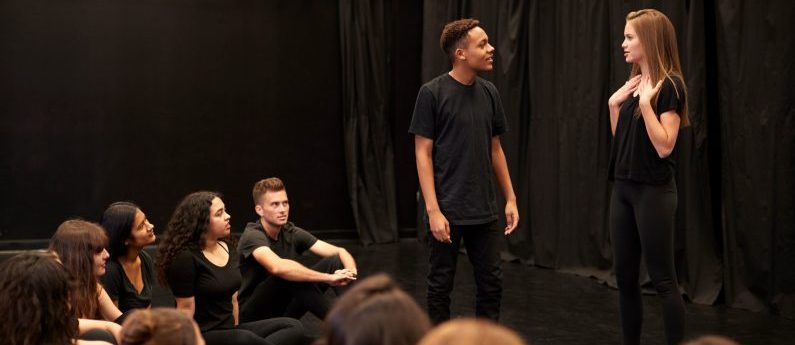 4-Week Acting Classes for Youth in Vancouver, BC
Scene study is often referred to as "the actor's sandbox" and for good reason. Scene study involves utilizing creativity to work together in the world of make-believe to make a scene that is believable. Students will be given a specific scene, (within their age range and expectations of life experience) from a movie or television series and work on it in front of our professional actor/instructor and their peers.
Students decide for themselves how they initially want to approach the scene, then receive specific constructive feedback that helps them improve their choices, craft and abilities in specific roles to discover their strengths and weaknesses.
Scene Study is a very important part of the actor's process because it makes the actor harness his or her skill set to create a performance. Technique classes are where actors learn the exercises and build up their foundational skills, Scene Study is where they put it all together to explore different writers, styles and genres of scripts and practice creating different characters.
Timing, focus, and taking direction are all part of a scene study as actors learn how to break down a script into playable actions, as well as develop their dexterity to approach different characters truthfully.
Scene study is a chance to take risks in an actor's work. Key to progress in Scene Study is finding a teacher you trust, feel comfortable with and work with over time. It takes a while for an instructor to really learn how each actor works, so give them time to learn how to help you grow as an actor.
Research shows that skills acquired through the performing arts – creativity, problem-solving and flexible thinking, radically improves outcomes for our children. In fact, for many, access to expression through the arts is essential to mental health and their way of being in the world.
Youth & Teen Scene Study
Start date: Sundays, Oct 22nd – November 19th | 1pm – 4pm
Class time: 1:00pm – 4:00pm
Length of Course: 4 Weeks
Class Size: 10 max (5 Pairs)
Tuition: $250 (includes tax)


Start Your Acting Career Today…
Join VADA, no other school gives you better support to kickstart your career after graduation! If you're ready to hone your professional acting skills then fill out the form on this page to receive more information! Or give us a call at 604-633-1525 to speak to a friendly and knowledgeable VADA Admissions Advisor today.