Improv Course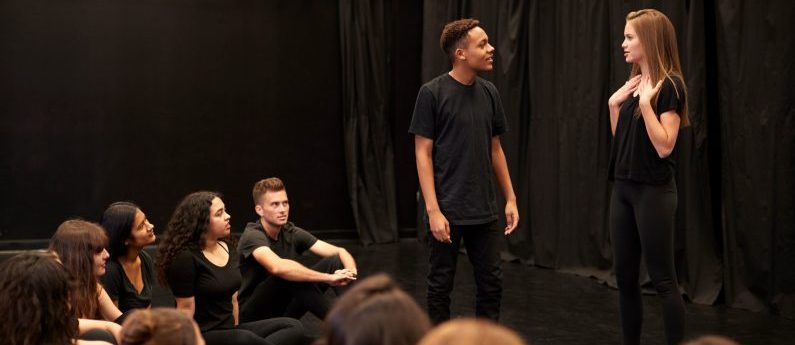 10-Week Improv Classes in Vancouver, BC
Acting is the "adult sandbox" where students are playing in the world of make-believe. Whether on stage or a movie set, actors use their spontaneity and creativity to make scenes come to life. Our new Improv Classes are taught by a professional actor and offer students a chance to learn the foundations of improv through various games and uplifting exercises.
Classes focus on building confidence and being positive with storytelling and one another. Students also receive feedback in this safe and encouraging environment and learn cooperation skills to be able to share the stage with each other.
The best way to see if VADA is the right fit for you is to see it for yourself. You can tour our facilities, meet with students and instructors and get a true feel for what it's like to be a part of the VADA community. Book a Tour Now or Get More Information
Actors use many exercises to commonly ignite their creativity. Improv is a skill that develops an actor's ability to be present, creatively think "outside the box" and act on impulse. When doing Improv, participants are presented with information or a scenario and challenged to quickly come up with creative ideas and act out the scene, situation or problem.
Pair and team building exercises help students to generate ideas, encourage creative thinking, give input and promote teamwork. If your child is good at improv, they are probably good at solving problems, and that is an intangible life skill they'll utilize in the future, well beyond acting.
Research shows that skills acquired through the performing arts – creativity, problem-solving and flexible thinking, radically improves outcomes for our children. In fact, for many, access to expression through the arts is essential to mental health and their way of being in the world.
Improv Course
Start date:TBD
Class time: 12:30 pm to 2:30 pm, Sundays
Length of Course: 10 weeks ( can be purchased for 5 weeks)
Class Size: 12 max (8 students minimum)
Tuition: $571.43 (+ tax) 10 weeks
$300 (inc .tax) 5 weeks
can be paid as 3 cheques of $200


Start Your Acting Career Today…
Join VADA, no other school gives you better support to kickstart your career after graduation! If you're ready to hone your professional acting skills then fill out the form on this page to receive more information! Or give us a call at 604-633-1525 to speak to a friendly and knowledgeable VADA Admissions Advisor today.